First and foremost I'll say that I'm very happy with my collection of bicycles. However, that does not preclude me from experiencing a little bike lust once in a while. The most recent object of my admiration is the line of
Ebisu
bikes made by
Jitensha Studios
. They are handmade, steal-framed, road-ish bikes made with a common sense approach to cycling. To be honest they don't seem all that different in concept than the AHH Rivendell I ride now. Both maintain a classic approach to bicycle construction rather than the current race-inspired trends. Jitensha produces bikes that are widely useful and still perform for the dedicated rider. But in contrast with the Rivendell,
Ebisu
bikes are modest in appearance - paint jobs are monotone and the decals are simple. Rivendells are more ornate for sure, which works well for a Rivendell. The
Ebisu
bikes, however, have an understated elegance which allows the craftsmanship to speak for itself. I sense that the Ebisu road is a sportier bike also. The
Ebisu
pricing at $1400 is reasonable. That orange road model is terrific.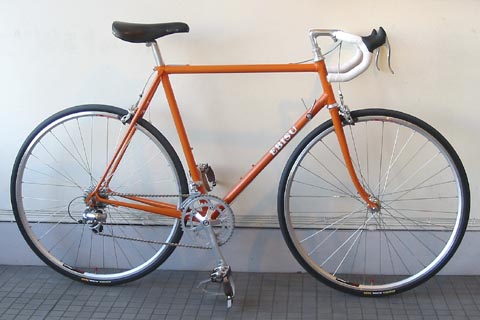 It occurred to me that I've actually been to the Jitensha Studio. I didn't realize it until recently but am sure it was the same place. My wife and I were visiting Berkeley a few summers ago. Like any bike geek, I stopped in the local bike shop to nose around. Jitensha isn't the typical bike shop. For starters, there is almost nothing inside the immaculate shop but a handful of beautiful bicycles, not the usual distracting clutter. Not knowing any better at the time, I didn't think anything of the bicycles on display. I quickly looked around, thanked the shop keeper and left. In hindsight, I wish I'd looked a little more closely and chatted with the owner Hiroshi Iimura. Maybe I could have picked up some of the special Nitto Jitensha flat handlebars or reserved my place in line for a snazzy frame.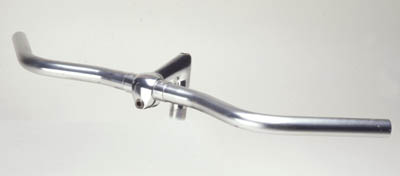 Well, my bike collection is at capacity (3) now, so
the Ebisu
will remain just a passing thought. Maybe sometime when I'm switching it up again, I'll see if Mr. Iimura can create something remarkable for me.